Guernsey Chess Club and Federation Reports
The 70th Inter Insular was held at the Peninsula Hotel on Saturday 21st April 2007. This hotel is a lucky venue for Guernsey because last time the event was held there in 1995, Guernsey won 9-7. Jersey fielded 16 players on paper but two players were unable to play, Elliot had had an accident and Khan missed his flight. So Guernsey started the day 2 points up. Of course there was no reserves match as Jersey hadn't brought any.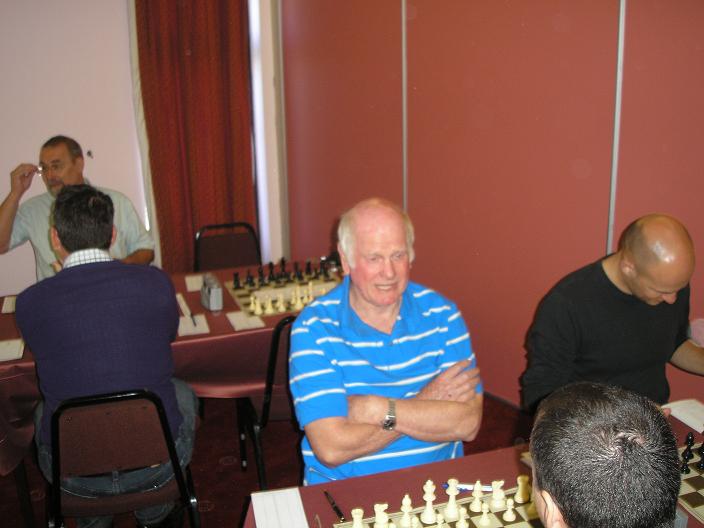 In the back ground Peter Rowe cleans his glasses to check Guernsey are really 2 points ahead on the scoreboard. John Cummins in the foreground is about to face a tough game against the Jersey newcomer Tandy. Mark Ozanne checks his programme unfortunately (because he'd travelled from the UK for the match) his opponent Khan didn't show-up.
Eric Palmer was the first to put real points (well a half) on the scoreboard with a draw against Philip Le Feuvre who was playing his 46 Inter-Insular only surpassed by the late John Bisson with 54 appearances. Then there was a quite unbelievable result Fred Hamperl joint Guernsey champion playing on board 1 beat Jon Hawes, the Jersey Champion to become outright channel island champion. Guernsey hadn't had an outright channel island champion since 1977 when the late David Browning won on the top board. Unfortunately Jersey shortly afterwards marked-up their own win on board 6 with Tandy beating John Cummins.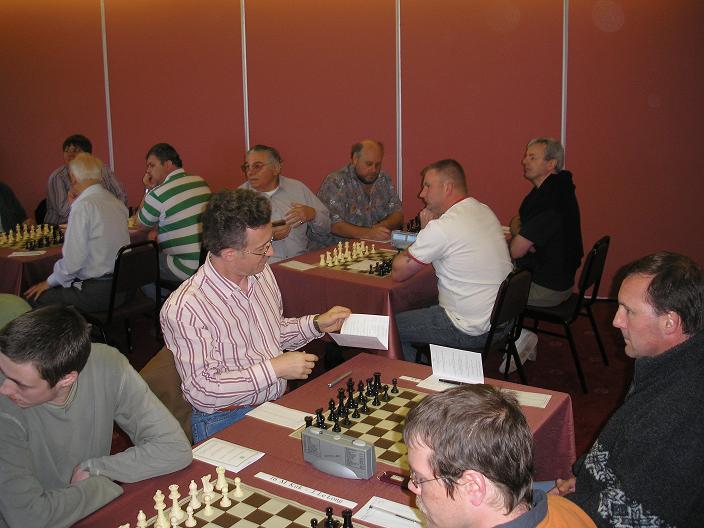 The 4 bottom boards for Guernsey shown here were awesome, all won their matches relatively quickly. From back right to left 13. Kerry Bateman (v Martin Marsay), 14. Tom Moriarty (v S Ruff), 15. Paul Cutter (v Nial Murray) and 16. Matthew Kirk (v J Le Le Long). Kerry engineered a good attack, Tom was in a lot of pain but still played for his country, Paul (a very strong player used to higher boards) played well and Matthew on his debut notched-up a confident score.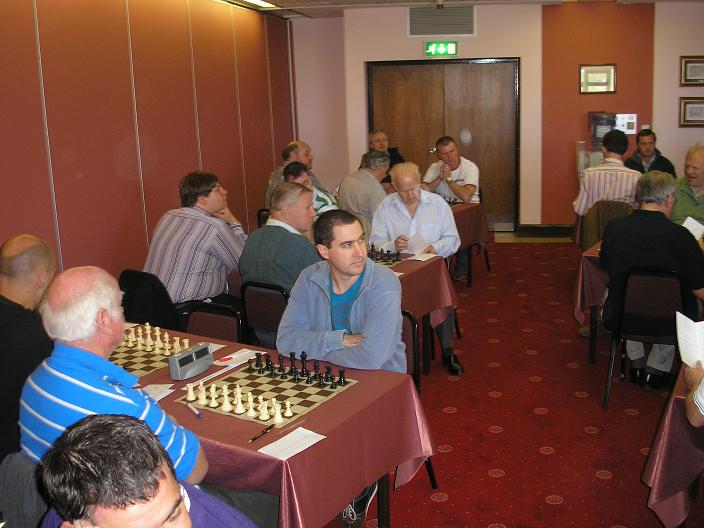 Peter Rowe then resigned against Jersey's Matthew Simmons. So after 3 hours the score was 7.5 - 2.5 to Guernsey. All Guernsey needed was 1 point to win the match and a half point to tie. As one wandered around the playing room of the six boards still playing it was hard to see where Guernsey's one point (or even half point) was going to come from. Jonathan O'Connor was two pawns down with apparantly no compensation. Russell Finch was playing Graham Boxall also a lawyer, Russell's knight had grabbed a pawn and it looked like it could be trapped. Toby Brookfield was playing a Jersey newcomer Mooney, even though the queens were still on the Jersyman more central queen looked to be bossing the game. Andrew Hale was 2 passed pawns down against the strong player Tony Fulton. Peter Kirby after being two pieces up had let his advantage go in a tactical poisition and the momentum had swung to the Jerseyman Louis Jouault who was now a pawn up in an ending. Tim Knight was also struggling to hold the focused Paul Wojceichowski who knew he needed to win if Jersey were to have any chance.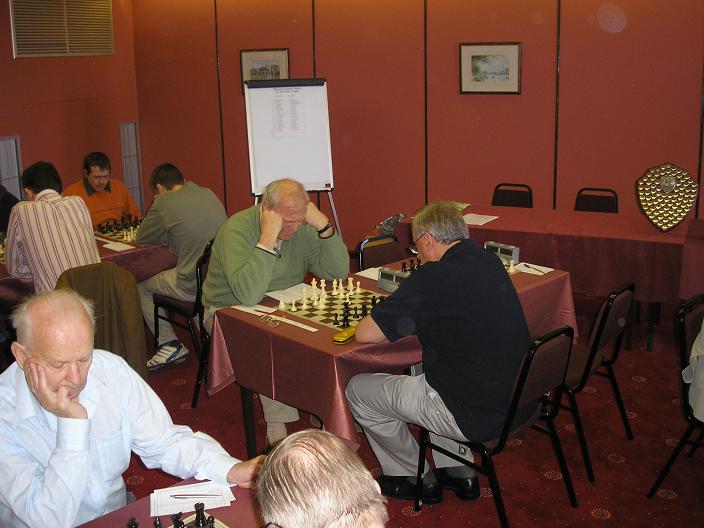 In the centre is Graham Boxall playing Russell Finch (back to us). In the left foreground is Philip Le Feuvre for Jersey in his 46th Inter-Insular.
Unfortunately now Jersey clocked up the expected 3 more wins, Goral beat O'Connor, Fulton beat Hale and Wojceichowski beat Knight. So now the score was 7.5-5.5 to Guernsey with 3 games left. Brookfield looked to still be losing, Kirby was still a pawn down but in a single rook and pawn ending which should be technical draw, Finch was now an exchange-up but any result was still possible in that game.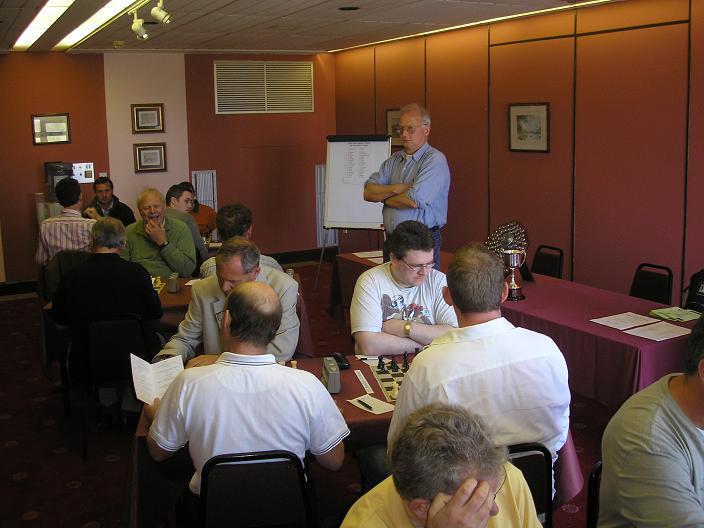 Ronald van Beek Guernsey Captain stands cross-armed, confident of a Guernsey team victory. With the 3 games still going at 5.55 pm Ron was getting nervous because he only had the room until 6.00 pm and he and the arbiter Daniel de Lisle would have to move the remaining 3 games which would have been very disturbing for the players. But at the eleventh hour there was a development Louis Jouault in the Phildor's position agreed it was a technical draw to give Guernsey 8 points and a guaranteed tie. Russell Finch with that news, knew he no longer had to win for Guernsey to win overall, so he offered Boxall a draw. Graham Boxall material down still very graciously agreed the draw and gave Guernsey the victory. Toby Brookfield was then able to resign the lost position against Mooney. So Guernsey won the match 8.5 - 7.5.
The celebration meal afterwards was very good and Russell Finch's speach was as histerical as always.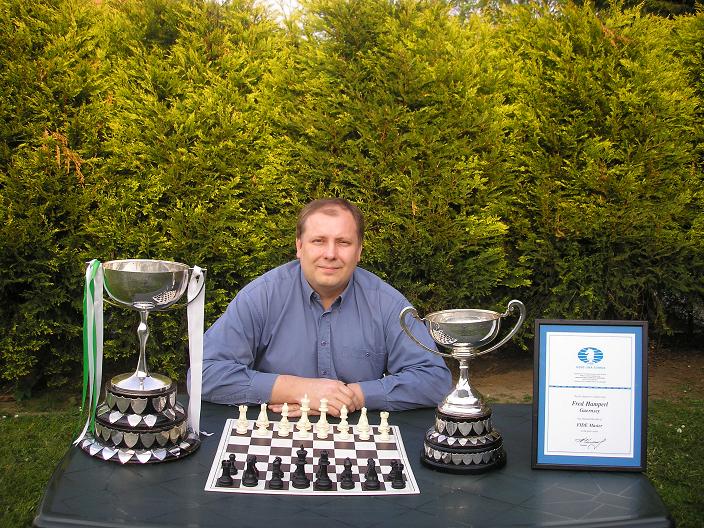 Photo published in Guernsey Press of Fred Hamperl with Hollis team trophy, board 1 Garde trophy and FIDE Master certificate.

See all the Inter-Insular stats here.
>